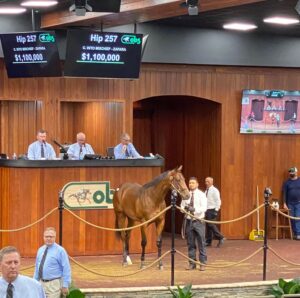 The 2022 OBS March Sale kicked off with a pair of seven-figure colts by OBS March graduate Into Mischief leading the first session.
Hip 257 summoned $1,100,000 from Hideyuki Mori. The bay colt by Into Mischief is out of the Not For Love mare Zapara and a half to stakes-placed Basso. He worked a bullet furlong in 9 4/5 and is consigned to the sale by Eddie Woods as agent.
Hip 277, another bay colt by Into Mischief is out of multiple Grade 1 winner, Artemis Agrotera, by Roman Ruler. He had a 10 1/5 eighth-mile work and goes to the partnership of Spendthrift, BSW/Crow Colts Group, Broman's for $1,000,000 from the Sequel Bloodstock consignment as agent for Chester & Mary Broman.
The market was buoyant and supported by a varied selection of six-figure juveniles, strongly represented by first-season sires.
Hip 93, a chestnut colt by Gun Runner out of Sacre Coeur, by Saint Ballado, brought $600,000 from Fawzi Abdulla Nass. A half to champion Lady Eli, he worked a quarter in 21 3/5 and is consigned by Eddie Woods as agent.
Hip 291, a bay colt by freshman sire Bolt d'Oro out of the Uncle Mo mare, Beautissimo, herself a half to graded stakes placed stakes winner Two Thirty Five also brought $600,000. After breezing a co-fastest 9 4/5 eighth, He goes to K S I from the Top Line Sales LLC, Agent consignment.
Hip 190 is a dark bay/brown colt by fellow freshman sire Cloud Computing out of the Montbrook mare, Tara Brooch, a half to stakes winner Al Max Diner. After a furlong work in 9 4/5, he goes to West Point / Talla Racing, LEB, Agent for 560,000 from the Paul Sharp, Agent consignment.
Hip 125, a dark bay/brown filly by another first-year sire, Mendelssohn, fetched $525,000 from Gracie Bloodstock as agent after a 10 flat eight-mile performance. Out of the Candy Ride (ARG) mare Simply Confection, the filly is a half to newly-minted graded stakes winner and Kentucky Derby hopeful, Simplification.
Hip 44, a bay Malibu Moon filly out of the Smart Strike mare, Private Jet who is a full sister to champion Lookin at Lucky, goes to Katsumi Yoshida for $450,000. She is consigned by Top Line Sales LLC as agent. She went 9 4/5 in her furlong breeze.
Hip 82, a chestnut colt by freshman sire, Good Magic out of Rose Mine, by Street Cry (IRE) went a furlong in 9 4/5 and goes to Maverick Racing for $450,000 from the Wavertree Stables, Inc. (Ciaran Dunne), Agent consignment. He hails from the family of champion Escena.
Hip 46, a dark bay/brown filly by Upstart out of the Simon Pure mare, Pure Legacy, a half to champion Areumdaundonghaeng. The filly had a 10 flat eighth-mile work and she goes to Lael Stable for $425,000 from the de Meric Sales consignment as agent.
Hip 213, a bay Adios Charlie filly out of Travelator, by A. P Jet, worked a bullet quarter in 20 2/5. She is a half to new stakes winner Hollywood Jet and goes to West Point / Talla Racing, LEB, Agent for $410,000. She is consigned by Ocala Stud as agent.
Total figures for the first day of selling include:
188 horses changed hands compared to 175 in the first session of last year's March Sale.
Gross sales of $26,325,000 compared for $19,125,000 in 2021 for a 37.6% year-to-year increase.
Average price was $140,027 compared to $109,289 last year for a 28.1% increase.
Median price was $77,500 this year and $55,000 in 2021, a 40.9% increase.
The buyback rate was 16.8% compared to 13.8% last year for a 3% increase.
The March Sale continues Wednesday, March 16 at 10:30am with hips 371 – 635 slated to visit the OBS sales ring.