An extended Under Tack session was held today to incorporate additional hips from the weather-abbreviated session yesterday.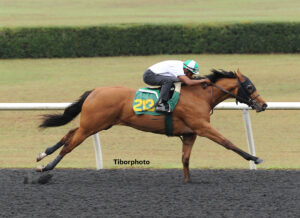 The fastest quarter-mile work of 20 2/5 was produced by hip 213. Consigned by Ocala Stud as agent, the bay filly by Adios Charlie is out of multiple stakes winner Travelator, by A. P Jet. The filly has a new stakes-winning half-brother since the catalog, Hollywood Jet.
The second fastest quarter of 20 3/5 was shared by 3 horses.
Hip 243 is a chestnut filly by Tapiture out of Whisp o' Spring, by Da Stoops. From the Golden Rock Thoroughbreds consignment, she hails from the family of champion Davona Dale.
Hip 272 is a bay Runhappy colt out of multiple stakes winner Annihilation, by Northern Afleet. He is consigned to the sale by Randy Miles as agent.
Hip 346, consigned by Ocala Stud as agent, the dark bay/brown filly by Peace and Justice is out of the winning Arch mare, Celtic Arch and a ¾ sister to graded stakes placed En Wye Cee.
Eight horses shared the co-fastest furlong of 9 4/5 seconds during the second session of the March Sale Under Tack Show.
Hip 57 is a bay colt by Carpe Diem out of the Stravinsky mare Rapid Decision. He is a half to stakes-placed Perfect Mistake and consigned by Flynt Fesmire as agent.
Hip 180, a dark bay filly by Bayern out of graded stakes placed, stakes winner Sweet Marini, by Marino Marini, is consigned to the sale by Eddie Woods as agent.
Hip 257, a bay colt by Into Mischief out of the Not For Love mare Zapara, is a half to stakes placed Basso. The colt is consigned by Eddie Woods as agent.
Hip 281, a chestnut colt full brother to champion and millionaire Rushing Fall led off today's Under Tack session. He is consigned by Kings Equine as agent.
Hip 291 from the Top Line Sales LLC consignment is a bay colt by first-season sire Bolt d'Oro out of the Uncle Mo Mare, Beautissimo, who is a half to graded stakes placed, stakes winner Two Thirty Five.
Hip 318, A bay colt by More Than Ready from the Wavertree Stables, Inc. (Ciaran Dunne) consignment out of Broad Spectrum, by Indian Charlie, is a half-brother to multiple stakes-placed Broad Approval.
Hip 351, a bay colt by Uncaptured consigned by Goldencents Thoroughbreds, is out of the Summer Bird mare Chickwithattitude, from the family of Grade 3 winner Tough Speed.
Hip 395, a bay colt by Custom for Carlos, is out of the winning Broken Vow mare Dixie Jewel and consigned by Brick City Thoroughbreds.
Due to impending severe weather on Saturday, the final Under Tack session for the 2022 OBS March Sale will be pushed back to Sunday, March 13 at 8am with hips 425 – 635 breezing.
Please keep in mind that Daylight Savings begins Sunday.
The start time of the sale session on Tuesday, March 15 will be moved to 1pm in order to accommodate buyers' inspections.
The Wednesday, March 16 session will remain at 10:30am.
The Under Tack show will be streamed live via the OBS website as well as the DRF, TDN, BloodHorse and Past The Wire websites.
OBS will again offer Online Bidding during the March Sale. Buyers will be able to go to the OBS website and register to gain bidding approval, then access the OBS Bidding Screen with their credentials. For complete information on registration and online bidding please go to the OBS website: www.obssales.com/2020/06/obs-online-bidding
The online catalog's main page contains a link to a sortable master index providing searchable pedigree and consignor information as well as access to pedigree updates occurring since the catalog was printed.
The sortable master index has advanced search and filter capability and allows shortlist creation. A link to instructions for using these features can be found in the index header and a step-by-step tutorial is available in the index as well.
The iPad version of the catalog can be accessed via the equineline Sales Catalog App. The App allows users to download and view the catalog, receive updates and results, record notes and also provides innovative search, sort and rating capability. For more information and downloads go to: equineline.com/SalesCatalogApp/
Current information about OBS sales, consignors and graduates is now also available via social media sites Facebook and Twitter. A link on the homepage directs users to either site.
Sales results will be available on the OBS website, updated frequently during each session of the Sale. In addition, the latest news regarding OBS graduates, sales schedules, nominations, credit requests, travel information and other news relevant to OBS consignors and customers is also available. E-mail should be addressed to obs@obssales.com.
For more information regarding the Winter Mixed Sale or OBS website, please call (352) 237-2154.