The catalog for the Ocala Breeders' Sales Company's 2021 March Sale of Two-Year-Olds in Training is now available via the OBS website at obssales.com.
A total of 561 juveniles have been cataloged for the two-day sale, set for Tuesday and Wednesday, March 16th and 17th, with both sessions beginning at 11:00 a.m.  Hips 1 – 282 will sell on Tuesday: Hips 283 – 563 on Wednesday. The Under Tack Show will span three days, beginning Thursday, March 11th with Hips 1 – 188. Hips 189 – 376 will breeze Friday, March 12th and Hips 377 – 563 will go Saturday, March 13th. All three sessions will begin at 8:00 a.m. The Under Tack Show and Sale will be streamed live via the OBS website as well as the TDN, DRF and Blood-Horse, and Past The Wire websites.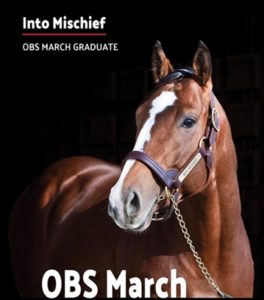 Gracing the front cover of the catalog is 2007 OBS March graduate Into Mischief, purchased for $180,000 by B. Wayne Hughes out of the M&H Training and Sales consignment. watch his under tack video After winning three of six starts including the CashCall Futurity (G1) at Hollywood Park and earning nearly $600,000, he entered stud in 2009. Rising steadily in the stallion ranks, he has topped the North American Sire List for the past two years, becoming the first stallion breaking the $20-million mark in single-season progeny earnings in 2020. The long list of his current and recent major winners is headed by reigning Horse of the Year Authentic. His son Goldencents, also an OBS 2-year-old graduate, was the leading third crop sire in 2020.
For the past few years, OBS March graduates have upheld the sale's legacy as a prime source of top class racehorses. Twenty-nine March graduates have accounted for 41 graded stakes wins since the beginning of 2019, with 166 winning or placing in 376 stakes.
The back cover features OBS March graduates who have won major races from coast to coast and overseas.
Jeff Drown and Don Rachel's unbeaten Structor, breezing steadily at Palm Meadows for a return to the races, has been idle since winning the 2019 Breeders' Cup Juvenile Turf (G1) for trainer Chad Brown. The now 4-year-old, three for three with earnings of $709,500, turned in an Under Tack quarter in :21 1/5 before he was purchased for $850,000 out of the Pick View LLC consignment at the 2019 OBS March Sale. watch his under tack video
OXO Equine's Instilled Regard, who joins the stallion ranks in 2021, ended his days at the races with back to back wins at Belmont Park in the Fort Marcy Stakes (G2) in June and Manhattan Stakes (G1) in July. In all, he won four graded stakes, earned $983,240 and compiled an 18-5-3-4 record for trainer Chad Brown.  The son of Arch turned in an Under Tack quarter in :20 4/5 before he was purchased for $1,050,000 out of the Tom McCrocklin consignment at the 2017 OBS March Sale. watch his under tack video
The highlight of First Row Partners and Hidden Brook Farm's back cover girl Nay Lady Nay's (IRE) 2020 campaign was a victory in the WinStar Matchmaker Stakes (G3) at Monmouth Park in July. Now training on the farm in Ocala for a return to the races, she will go back to trainer Chad Brown with a 10-5-1-1 record and $466,180 in earnings. The 5-year-old mare by No Nay Never, with two graded stakes wins to her credit, turned in an Under Tack quarter in :21 2/5, before she was purchased for $210,000 out of the Eddie Woods consignment at the 2018 OBS March Sale. watch her under tack video
Eclipse Thoroughbred Partners and Madaket Stables LLC's Speech won or placed in three graded stakes in 2020, winning Keeneland's Ashland Stakes (G1) in July in a track record 1:41.26 for the mile and a sixteenth. The 4-year-old Florida-bred daughter of Mr Speaker is a two-time OBS graduate, purchased out of the Summerfield consignment at the 2018 Winter Mixed Sale, then resold by SBM Training & Sales, Agent, for $190,000 at the 2019 March Sale after turning in an Under Tack eighth in :10 flat. Trained by Mike McCarthy, she's now 9-3-3-1 and earned $458,240 to date. watch her under tack video
Racing in Japan, Koichi Nishikawa's Cafe Pharoah ended his 3-year-old campaign approaching the million dollar mark in earnings. He won three stakes including the Unicorn (G3) and Sirius Stakes (G3), leaving him with a 6-4-0-0 record and $917,019 in earnings. The 4-year-old colt by American Pharoah, trained by Noriyuki Hori, was consigned by Eddie Woods, Agent, to the 2019 OBS March Sale, and was sold for $475,000 to Narvick International, Agent, after turning in an Under Tack quarter in :21 1/5. watch his under tack video 
OBS will again offer Online Bidding during the March Sale. Buyers will be able to go to the OBS website and register to gain bidding approval, then access the OBS Bidding Screen with their credentials. For complete information on registration and online bidding please go to the OBS website: obs-online-bidding
The online catalog's main page contains a link to a sortable master index providing searchable pedigree and consignor information as well as access to pedigree updates occurring since the catalog was printed. Advanced search and filter capability has been added to allow shortlist creation. A link to instructions for using the new features can be found in the index header and a step by step tutorial is available in the index as well.
The iPad version of the catalog can be accessed via the equineline Sales Catalog App. The App allows users to download and view the catalog, receive updates and results, record notes and also provides innovative search, sort and rating capability. For more information and downloads go to: http://www.equineline.com/SalesCatalogApp/
Current information about OBS sales, consignors and graduates is also available via social media sites Facebook and Twitter. A link on the homepage directs users to either site.
Sales results will be available on the OBS website, updated throughout each session of the March Sale.  In addition, the latest news regarding OBS graduates, sales schedules, nominations, credit requests, travel information and other news relevant to OBS consignors and customers is also available. E-mail should be addressed to obs@obssales.com.
For more information regarding the March Sale or OBS website, please call (352) 237-2154.