Please take the time and have a say in the future of our industry!
(deadline: September 20)
Please note: OBS is not collecting or utilizing this information in any way*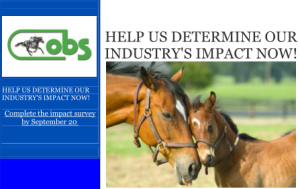 *Cummings Associates and Civic Economics have been retained by the Florida Horsemen's Benevolent and Protective Association, the Florida Thoroughbred Breeders and Owners Association, and the Florida Quarter Horse Racing Association to measure the impact of horse racing to the Florida Economy.
This survey is an essential component of that study. The survey is aimed at owners, breeders, and trainers of Thoroughbred, Quarter Horse, and Standardbred race horses active in the state of Florida in 2012.
This survey asks for financial information of a sensitive nature, so we want to assure you that your confidentiality will be protected assiduously.
Only personnel associated with Cummings and Civic Economics will have access to your responses, which will be maintained in a secure environment. Results will be presented in the aggregate, averaging responses in two ways: sets of questions will be totaled, then those totals will be averaged. The reporting of the study will provide no opportunity for anyone to identify your business information.
Please refer all questions and comments to Tammy Gantt at the FTBOA (352) 629-2160) or tgantt@ftboa.com