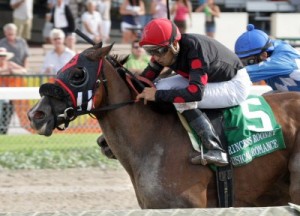 Jerry Durant's Amarish is two for two and a stakes winner after opening up in the stretch and drawing  off to 4-1/2 length win in the $100, 000 Willard L. Proctor Memorial Stakes at Betfair Hollywood Park. Sold for $200, 000 by Crupi's New Castle Farm, Agent, at the 2012 OBS March Sale, the 2-year-old gelding by Scat Daddy has earned $91,200 to date.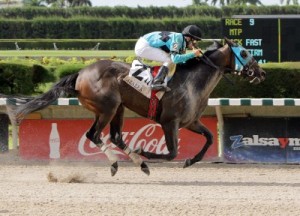 Gary & Cecil Barber and Kevin Tsujihara's Miss Empire settled for fourth in her debut last month, but made the most of the education, rallying from off the pace and rolling to a 4-3/4 length victory in the $100,000 Cinderella Stakes last Saturday at Betfair Hollywood. One for two with earnings of $63,120, the 2-year-old Empire Maker filly was sold for $165,000 by Eddie Woods, Agent, at the same OBS March Sale.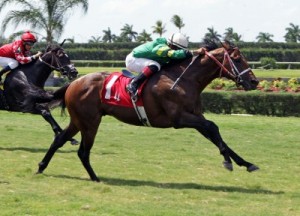 P & G Stable & Off the Hook, LLC's Turbo Compressor went to the lead in Saturday's $500,000 Colonial Turf Classic Stakes and never looked back en route to a 1-1/4 length victory. It's the third stakes victory for the 4-year-old Florida-bred son of Halo's Image, now 13-6-1-2 with earnings of $620,960. He was sold for $22,000 by breeder Bridlewood Farm at the 2010 OBS April Sale.
Blinkers On Racing Stable et al's grade one winner Turbulent Descent returned to form in her first start of the year, tracking the early pace before driving to a 1-1/4 length victory in Sunday's $72,570 Desert Stormer Handicap at Betfair Hollywood. That's six stake wins for the 4-year-old Florida-bred filly by Congrats, now 11-7-2-0 with earnings of $901,640. She was sold by breeder Ocala Stud for $160,000 at the 2010 OBS April Sale.